Configure to Order: the new online standard
Your production process is smart, but the client's journey in the design, quotation and order process is not yet as fast, smart and efficient. The order and delivery of products is still an administratively laborious and knowledge-intensive process, both for you and for your client. Can this be done differently; can it be smarter? And is there already a tried and tested solution? Yes, there is!
With Configure to Order, you incorporate the new online standard within your order process. A helicopter view of the manufacturing industry teaches us that, with smart industry, huge technological leaps forward are made by serving your clients 24/7 with the newest production technologies. By producing batch size 1 in a fast, smart and personalized way, you fulfil your clients' wishes. The online product configurator helps you with this.
Client requirements product configurator
With the online product configurator, your client designs their own product and immediately sees the design in 3D. Once they are satisfied with the design, the quote is automatically generated and the client automatically sees it. Does the client accept the quote? Then the order will immediately be placed. With this, you as an organization meet your customers' requirements: fast delivery of well-priced customized products in small batch sizes.
As well as addressing the requirements of your client, the product configurator also brings you as an organization a huge number of benefits. It makes your organization accessible 24/7 to international clients, it minimizes the margin of error and enables you to offer a competitive price. And don't forget, with the product configurator you also have all the information you need to start up the production process. Sending a design or quote back and forth because it's not to the client's satisfaction, is therefore a thing of the past.
A step forward with Configure to Order using the product configurator
With the tried and tested approach Configure to Order, using the online product configurator, you take the next step forward in your (international) growth ambitions.
In order to keep moving forward, we periodically investigate, together with you, where the opportunities still remain. By doing so, you will always be at least one step ahead of the competition!
Read our references.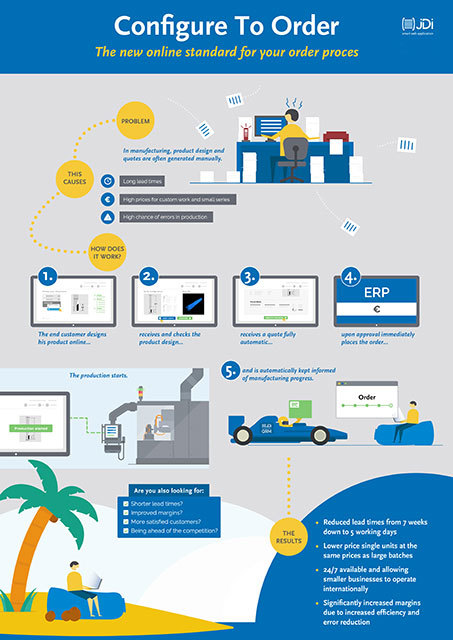 Would you like to automize your design and quotation process and to meet the requirements of your client?
Then enter your details in this form and we will contact you as soon as possible!